Would you want to swim in a lake whose name was once Bloody Lake? Well, the New York park system asks that you don't. 
It was called Sinnipink when, on it's banks once sat the Waoraneck's principal village. The tribe was part of the Lenni Lenape Nation, whose identity was sadly lost over the years of settlement. 

Stephanus Van Cortlandt "purchased" it in the second half of the 18th century and it became known as Highland Lake. By 1775, Forts Montgomery and Clinton were erected on its banks to protect the Hudson Valley. 

On October 6, 1777, 2,000 English, Hessian and Tory troops marched toward Bear Mountain. There the force was divided into two parties. One division of 500 British regulars and 400 Hessians took a route back of Bear Mountain and came out on Popolopen Creek about four miles west of Sinnipink Lake. They advanced rapidly down the creek until Slaughter Hole (a whirlpool thought to be bottomless) was reached.  Fifty American patriots fought like mad against 300 men, and when forced to retreat, they hurled their field pieces into the bottomless hole and escaped to the fort, along with nearly 200 redcoats who found a grave at the Slaughter Hole.

At the other end of the lake, the second group of 1,100 troops took an old road through Doodletown toward the east shore of the lake (it's believed that the song, Yankee Doodle, comes from this battle). There was a strong patriot outpost and the Hessians were in the lead in the attempt to capture it. A great slaughter followed. Two hundred and fifty Hessians were killed trying to take the outpost. Their bodies were thrown into the lake, which according to witnesses, turned red with blood for several days afterward. The lake was then known as Bloody Lake, or Hessian Lake.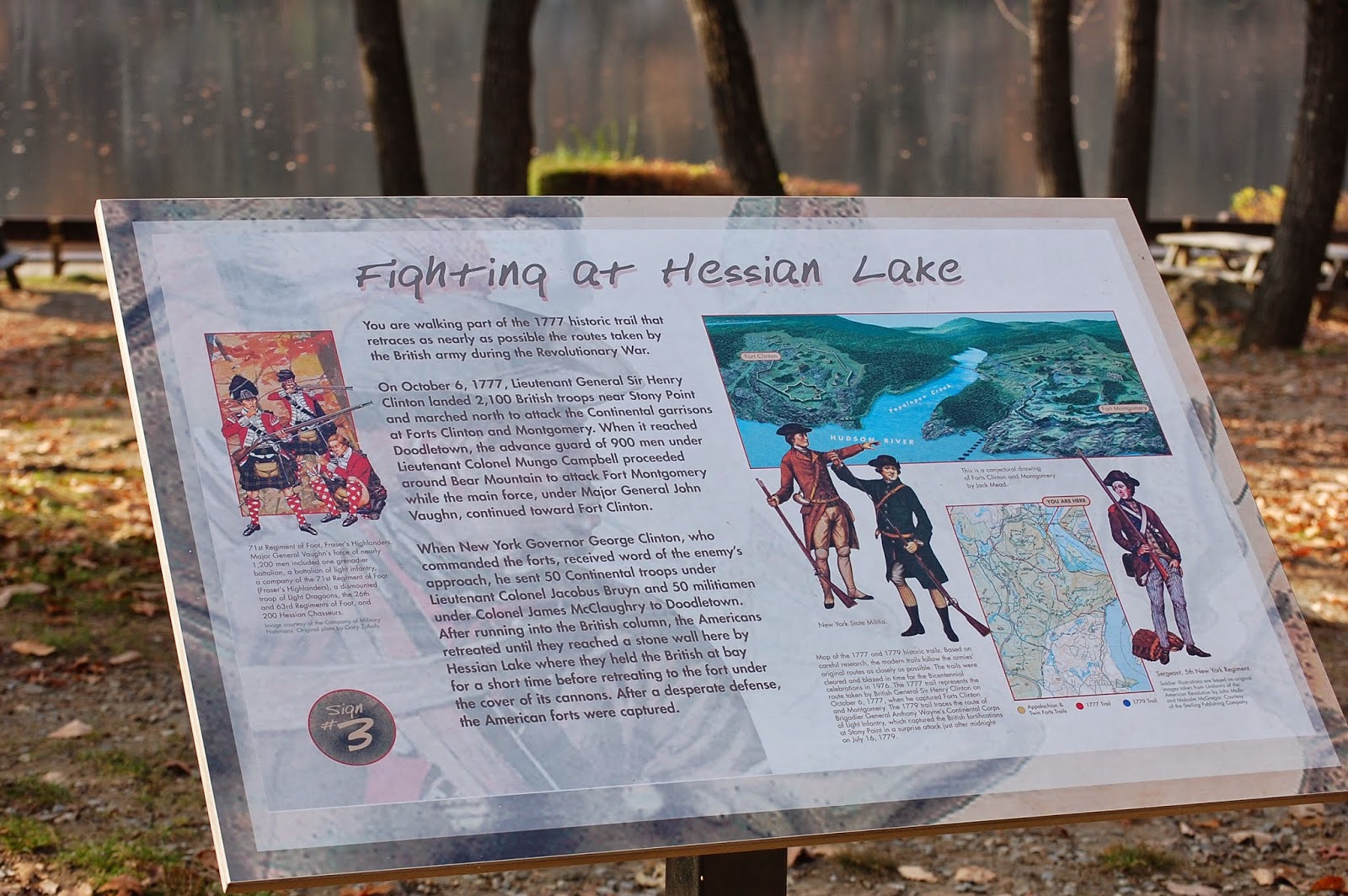 Today, the crystalline body sits peacefully next to the Historic Bear Mountain Inn. Swimming is not allowed in the lake, although two tried in 2013 and drowned. The spring fed lake is said to be draining constantly, causing a pull from the bottom. Some say the pull comes from the ghosts of Hessian soldiers who lie at the bottom. Ghost hunters claim that uniformed Hessian spirits can be seen roaming the lake's shores at night. You can walk the historic path that they took that fateful day, and decide for yourself. 

www.beth-everett.com
fb/Leehardingmysteryseries
Read more about the region in Dead on the Dock, coming May 1, 2016
www.amazon.com/deadonthedock